The Street Fighter V Round Robin stages are all over at the Gfinity Elite Series and the semi finals matchups are now finalised.
The competition only gets fiercer with only two weeks left and four teams duking it out for their share of the 27.5k Prize pool.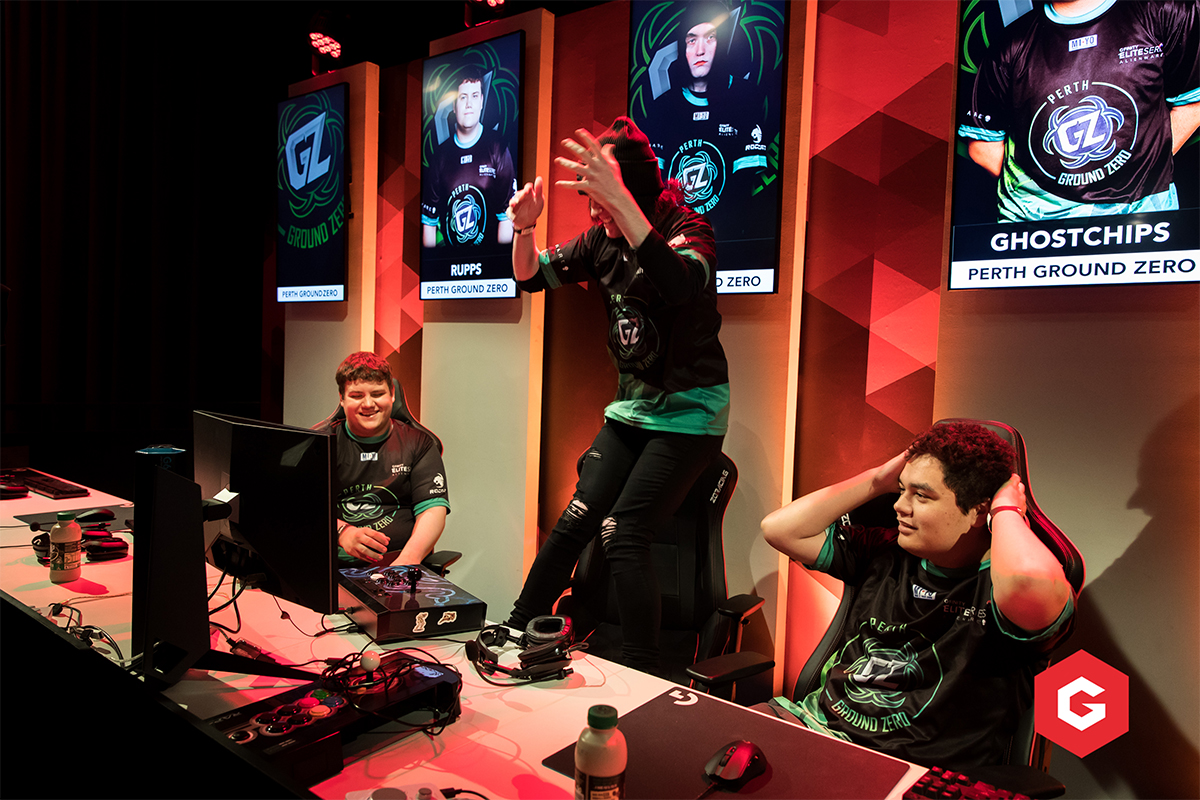 Brisbane Deceptors vs Sydney Roar

The first set of the night was sadly the last we will see of these teams this season, Brisbane Deceptors finally scores their first win over Sydney Roar.
Robbiesla described it very well in the post match interview as a "close 4-0". This set had quite a few shining moments that were unfortunately punctuated with mishaps and comebacks that would ultimately cost Roar crucial match points.
Crowd favourite Robbiesla pulling his first win was definitely a highlight for the fervent Robbie fans in the audience. After a handful of very close losses in prior weeks, watching Robbie take this one out was admittedly very satisfying.
Fangrear held his ground particularly well zoning in the first round against m0nt in old Zeku form.
His success quickly declined when he started to brawl close range in Young Zeku form and m0nt quickly piled on the command grabs to dominate the match.
M0nt demonstrated this in his match against Damosk as well, slowly adapting his approach to pry on Damosk's weakness, culminating into three risky overheads in the last set that paid off well.
Pahnda vs Waz was a very tense match and my favourite of the set. I enjoy watching the methodical playstyles from both of these players. The final sequence had me torn with Waz dropping a match winning super confirm and Pahnda capitalizing with a beautiful punish to close the set.
I feel with the tension of scoring relieved, these teams were playing a bit looser and relaxed, perhaps that's the secret ingredient for success for the Deceptors in future?
Perth Ground Zero vs Melbourne Avant

Exhibitions aside, this is where the points start to matter.
Melbourne Avant lose their perfect league play win streak against Perth Ground Zero. The final score ended up 4-2 to Ground Zero. With Ghostchips looking to be a regular part of the line up now, Ground Zero is looking very menacing and this victory gives them a head of steam moving into Playoffs.
Rupps kicked off the first match with "counterpick" Abigail vs Spaceghost's Guile. Spaceghost looked far more prepared this time round, not allowing a repeat of when he lost to DaBigChoppa's Abigail earlier this season.
The usually dominant Bison player Ghostchips looked a bit rocky in his gameplay this week. He still managed to take the win in two close games against AwildLLAMA and Spaceghost but didnt look very pleased in the manner that it happened.
Ground Zero looked like they were intentionally trying to line Syo up with RumoursOfGhosts.
Syo looking very prepared coming into the first match with some slick counter play for Birdie. The second match however showed a very different story.
Rumours played much more aggressively and took advantage of Ibuki's low life to close the match out quickly before she could get anything started.
I would have really liked to see how the seventh match would have gone between these two.
Melbourne ORDER vs Sydney Chiefs

Melbourne ORDER claimed the coveted first place seeding in the round robin stages with their 4-1 victory against Sydney Chiefs.
Sydney Chiefs subbed out their two core players ZG and Somniac for Acrylicsaint and Schenkhan. Surely a strategy to ensure their key players are at 100% when the Playoffs start.
Chiefs reduced firepower was very evident when ROF and Travis Styles tore their team asunder in record time.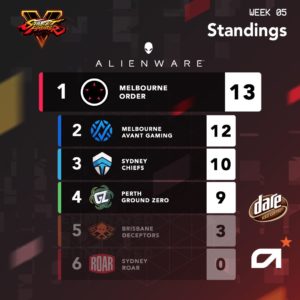 ---
Now with the Round robin stages out of the way the final scoreboard has ORDER once again on top followed by Avant Gaming, Chiefs and lastly Ground Zero.
The stage is set for the Playoffs between these four teams! With only two weeks left, who will succeed in taking home the lion's share of the 27.5k prize pool? Who's next on the chopping block?
The Gfinity Elite Series returns with Street Fighter V and Rocket League this weekend. Tune in on Twitch, YouTube, Twitter, and Facebook to watch every game live. Head to gfinityesports.com.au for details on schedule and tickets.