A monumental night to take us that much closer to the Gfinity Elite Series Street Fighter V Grand Finals.
Two more teams have been eliminated and the stage is set for the final showdown between returning Champions Melbourne Order and their rivals the Sydney Chiefs.
It wasn't an easy road to get here, both teams performed extremely well in the round robin stages and had to compete with Perth Ground Zero and Melbourne Avant in a single elimination match.
Editor note: Unfortunately due to issues with WordPress this week the clips aren't able to be inline embedded into the piece. Should be rectified moving forward.
? This weekend's finals will pack a punch, get prepared with @ASTROGaming's Top 5 #StreetFighterV Moments from the semi-finals!

? @Oi_Rupps | @RoF_uu | @DaBigChoppaNZ | @xaverunsgdlk @bksama | @SydneyChiefs pic.twitter.com/nfVNWPpT3l

— Gfinity Australia (@GfinityAU) December 13, 2018
Melbourne ORDER vs Perth Ground Zero
A very decisive 4-1 victory for Melbourne Order, they showed no mercy in their rematch of Season One Grand Finals with Perth Ground Zero.
Bug and Syo kicked off the night with an Ibuki Mirror between Mentor and pupil. Traditionally Bug would be the favourite to win but recently Syo has managed to swing things in his favour. The match was very volatile and it almost felt like whoever scored the first Knockdown take the round.
Syo clinched the match twice with Ibuki's deadly Air Kunai release, a technique that pries on a player's defensive throw tech habits and unfortunately for Order, Bug wasn't prepared for it the first or the second time.
https://clips.twitch.tv/SwissTacitOrangePRChase
In the second match Rupps bought out the Alex in a very questionable approach against ROF. He had a shining moment in the second round where he managed to steal a round after landing three perfect reads in a row.  However the high risk / reward game eventually fell out if his favour and ROF secured the victory.
https://clips.twitch.tv/KawaiiFragileSardineKeepo
The Marquee player for ORDER was definitely Travis Styles and his formidable Balrog. He once again scored two matches and garnering yet another Astro MVP, he is hands down the most consistent player in Season 2 and a very reliable asset for the team. His matches against Syo and Ghostchip's highlighted his rock solid defence and excellent decision making under pressure. 
His opponents used characters who are well known for having very oppressive pressure. His liberal use of V-reversal helped to push them off and allowed him to create space to play at the range he is comfortable in.With these two dominant wins under his belt, Travis' looks primed to carry Order to victory next week in the Grand Finals.
With ORDER only one match away from getting into Grand Finals, the pressure was on for Ghostchip's to carry his team from defeat. He barely squeezed a victory with a trade combo in the first round but it would all go downhill as Birdie's reliable damage seemed to tip the scramble situations quite heavily in ROF's favour.
By the end of the set, ROF had Ghost all figured out with a well timed jump back to catch Bison's Slide into V-Trigger activate.
https://clips.twitch.tv/SmilingSuavePistachioFrankerZ
Once again ORDER claimed their spot in the Grand Finals. Their convincing victory here paints them as definite favourites to take out the championship. Will history repeat itself? We'll find out on Sunday!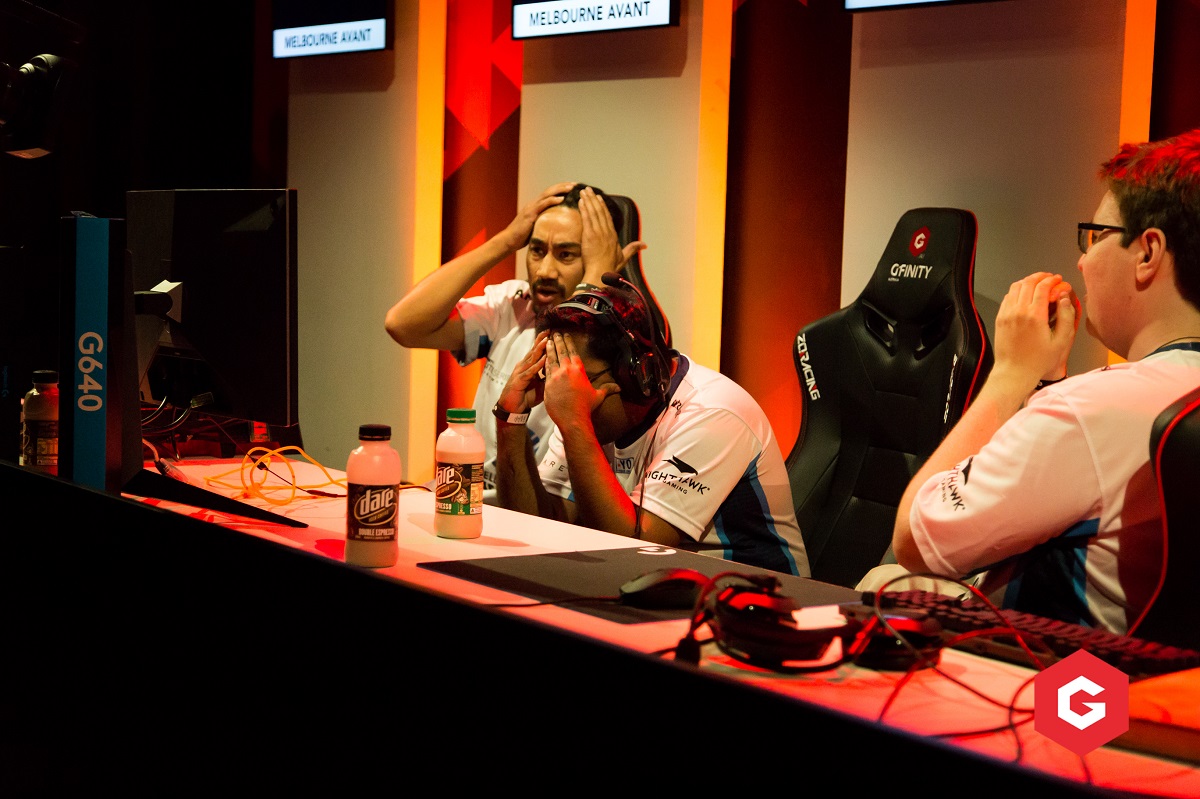 Melbourne Avant vs Sydney Chiefs
Oh boy, this was a crazy set. Sydney Chiefs narrowly closed it out 4-3 thanks to their trump card player DaBigChoppa.
The team composition in this match had both teams align perfectly, Each player would have the same opponent through out the set. DaBigChoppa had mentioned earlier in the Round Robin stages about how he wanted to have a go at "Mr. Gfinity" RumourOfGhosts and he got his wish three-fold.
AwildLLAMA scored the lion-share of points for Avant while making Somniac look like a fish out of water in the G vs M.Bison match up. In the first match Somniac looked like he was in full control until AwildLLAMA found his opportunity with a very pivotal cross up jump in to claim the corner. From there he scored outrageous damage on every successful read on Somniac's defence to claim the first match.
Somniac took a very different approach in the second match with a heavily offensive style, which in theory works well against G's low defensive options. However, AwildLLAMA matched it pound for pound and just made so much more damage from every chance he could get compared to Somniac.
https://clips.twitch.tv/AgileKnottyAdminTTours
Spaceghost barely stole the first match in a close call against BKsama. It was down to the wire in all three rounds and these two players were looking very evenly matched. BKSama did everything he could to keep in Spaceghost's face, wanting to avoid playing the fireball game against Guile.
Their second match looked nothing like the first. BKSama just proceeded to run a train over Spaceghost in a clean 2-0 victory. Look at this nasty Shimmy conversion.
https://clips.twitch.tv/RelievedBraveToadUnSane
The MVP of the night goes the DaBigChoppa claiming 3 straight wins against Avant captain RumoursOfGhosts. DaBigChoppa has brought nothing but carnage in his wake since he has entered Gfinity this season and this week was no different.
As the series went on it looked like Rumours was getting closer and closer to victory but DaBigChoppa kept managing to clutch it out. There were so many highlights between these two, just check them out yourself below!
https://clips.twitch.tv/ManlyKitschyAyeayeRlyTho
https://clips.twitch.tv/OriginalArborealCobraSmoocherZ
https://clips.twitch.tv/CrunchyImportantLampPogChamp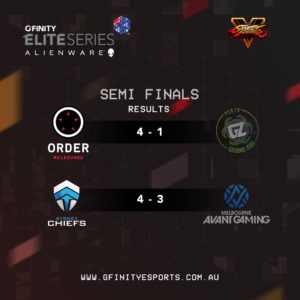 ---
With only one week to go which team will take out the lion's share of the $27,500 prize pool? Can the Chiefs overthrow ORDER? Will ORDER walk into 2019 as the two time champions? Join me in the Twitch chat later today to find out!
The Gfinity Elite Series returns with Street Fighter V and Rocket League Finals today. Tune in on Twitch, YouTube, Twitter, and Facebook to watch every game live. Head to gfinityesports.com.au for details on schedule and tickets.