The Gfinity Elite series Week 2 brought us a few new faces and crazy, jaw dropping matches to remember.
The teams continue through the Round Robin stages trying to secure a point lead where only the four top scoring teams will make it into playoffs.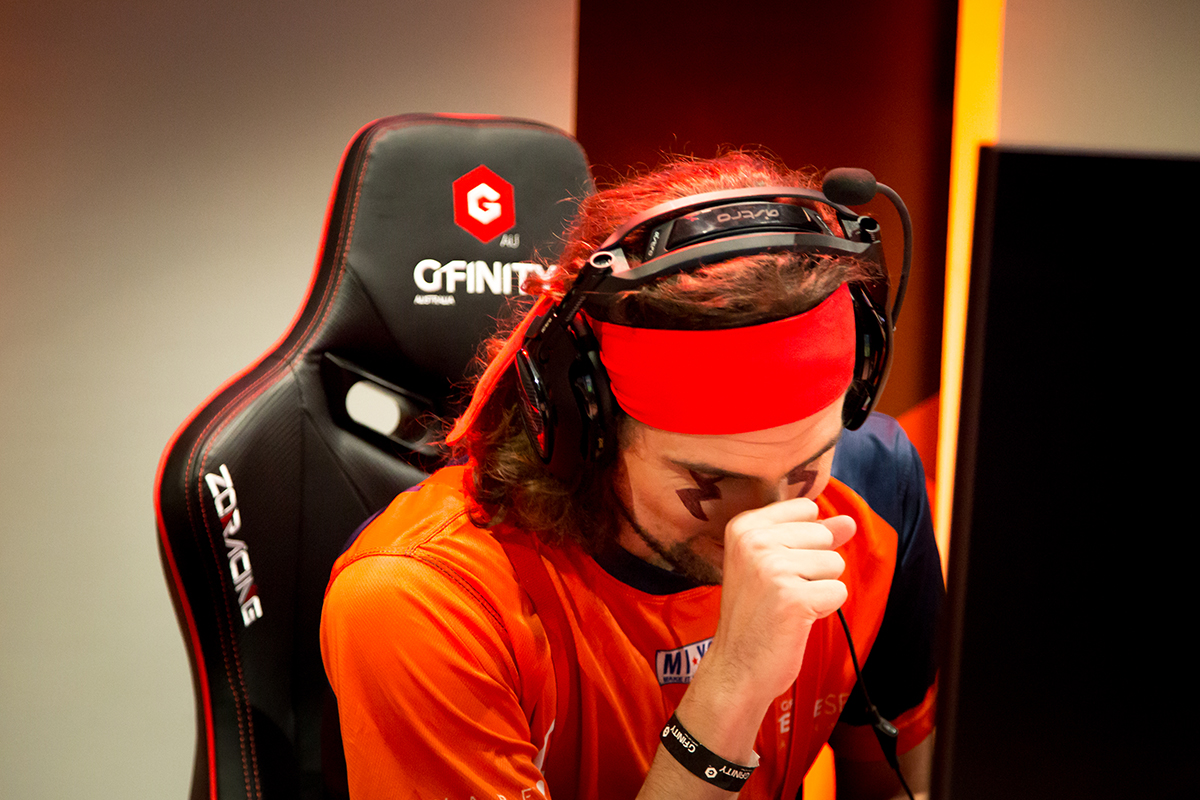 Sydney Chiefs vs Melbourne Avant
The first set of the day marked the first time we have come to the seventh game tie breaker this season, Melbourne Avant barely closes it out against Sydney Chiefs 4-3.
This week Chiefs debuted their wildcard from NZ, DaBigChoppa with his fearsome Abigail. He butchered RumourOfGhost and Spaceghost in two very convincing 2-0 victories.
His impressive performance on the night would then prompt Somniac to tease that there may be more Choppa in weeks to come.
On the other side AwildLLAMA put in work scoring two big victories over Schenkhan and Somniac. His match with Somniac was a nail-biter. All three games had both players on critical health. AwildLLAMA managed to steal the win away with G's insane damage potential and Vtrigger combos.
The highlight for me in this set was Spaceghost's clutch win against Schenkhan. In the final round, Spaceghost managed to mount a classic Guile theme comeback that spanned 50 seconds and capitalized on the desperate Zeku players mistakes.
A beautiful counter hit conversion into super with a follow up throw would close in on a very pivotal victory for Melbourne Avant.
Sydney Roar vs Perth Ground Zero
Perth Ground Zero started off strong with a three win streak. Sydney Roar stopped the bleeding and picked up their second wind with a two win streak of their own. However Roar was unable to keep the momentum alive and would see Fangrear drop their last game to Staticz.
Perth Ground Zero took the set 4-3 over Sydney Roar.
Staticz scored the lion's share of Ground Zero's points via his two bouts with Fangrear. Fangrear looked very uncomfortable on the stage, perhaps tournament nerves getting the better of him.
Staticz on the other hand had no problems whatsoever, using both Menat and Bison to seal the deal against Fangrear's Zeku.
FREESER's match with Waz was a very interesting battle between two very different player types. On one hand you have Waz's very defensive orientated Kolin who likes to hang pack and pick his spots when he's ready.
On the other hand you have FREESER who will aim to get the knockdown and not relent in his pressure. FREESER made some outrageous plays in this match and here's my favourite clip with the overhead punish to take the second round.
Melbourne ORDER vs Brisbane Deceptors
Melbourne ORDER once again proving they are indeed the top dogs in the Gfinity Elite series.
Brisbane Deceptors brought in their big guns with m0nt to supplement Pahnda and Robbiesla, however they were no match for ORDER's unchanging lineup of Travis Styles, ROF and Bug.
Travis Styles dominated yet another week and proves he is the definitive player when it comes to Balrog. He scored two victories over both Robbiesla and Pahnda, the latter being one of my favourite matches of the night.
Travis and Pahnda share such a clean style and its always a pleasure to see these two go toe-to-toe.
The heartbreaker of the night has to go to Robbiesla's fatal error in his match against ROF. After blocking ROFs desperation Bull Horn, Robbiesla was given the game winning chance but fumbled it due to birdies extra block stun while he is in VT. Here's how ROF feels about that…
---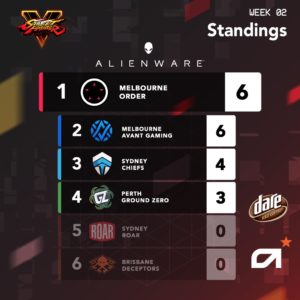 All in all a good night for Melbourne ORDER and Avant, continuing their streak from week one and leading the board with 6 points each. Sydney Chiefs slides into third place with 4 points due to their tie breaker victory.
The Gfinity Elite Series returns with Street Fighter V and Rocket League this weekend. Tune in on Twitch, YouTube, Twitter, and Facebook to watch every game live. Head to gfinityesports.com.au for details on schedule and tickets.