Week four of the Street Fighter V Gfinity Elite Series decisively guaranteed the top four teams who will be returning for playoffs.
Ground Zero cement their place as fourth this week and teams will be in an arms race for points to get into the best position possible for the second phase.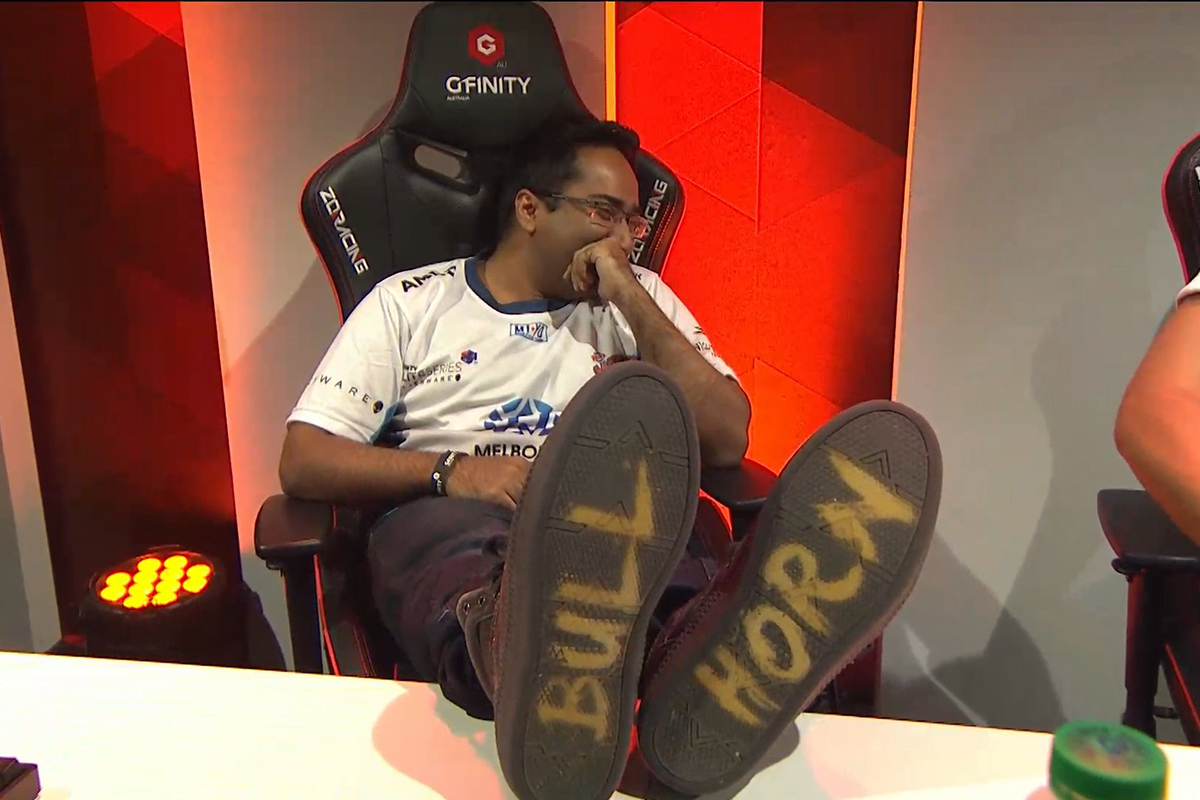 Melbourne ORDER vs Melbourne Avant

The first match of the night was a clash of titans. Avant's captain RumoursOfGhosts secured the victory in the seventh match against ORDER's captain ROF in the classic Birdie mirror match.
Avant's victory puts them at a major advantage in the standings, but the consolation point ORDER secured for pushing the series to 7 games still has them in contention for the coveted first place spot.
Strangely enough the teams managed to sync their matchups perfectly with each other.
Travis Styles returns to form this week with two dominant back-to-back wins over AwildLLAMA.
Bug and Spaceghost's matches were a clear demonstration in the difference of their playstyles. Spaceghost had Bug pinned down with Guile's signature fireball and anti-air game, not giving Bug any opportunity to get started. However in the second game Bug's Ibuki was unrelenting and managed to slice right through Spaceghosts meticulous zoning.
The big MVP of the set went to RumoursOfGhosts, defeating ROF three games in a row. This is no easy feat as the two titans are among Australia's best players and iconic in their Birdie rivalry. Rumours mentions they are almost like 'Yin and Yang" in the way they play.
Rumours riskier style paid of tonight as each of his reads scored him unsettling close wins against ROF. I am confident this won't be the last we see from these two!
Perth Ground Zero vs Brisbane Deceptors

Ground Zero pulled out all the stops this week, sweeping the Deceptors 4-0.
This was a pivotal victory for Perth Ground Zero in terms of rankings. The three points they scored with this victory guarantees the fourth spot in the playoffs.
Unfortunately this means next week will be the final week for Brisbane Deceptors and Sydney Roar.
Syo dominated Pahnda in a quick two round sweep,while Rupps defeated m0nt with his secondary character Abigail. Castle intrigued by this decision asked him why he decided against Mika in this match up to which Rupps replied "If you are playing an opponent that isn't thinking, Abigail is better". Harsh.
The closest games of the set was the Alex mirror matches between FREESER and Robbiesla.
Robbisla once again was so close but so far from clinching out the victory. We can only hope Capcom can give this poor soul some buffs in the upcoming balance patch.
Sydney Roar vs Sydney Chiefs

Chief's Somniac took a break this week and confided in his teammates to pull a clean 4-0 without him. It almost comes true too as Chief's take the first three matches and start to look very comfortable with their lead, almost too comfortable.
Damosk brought Roar back on their feet with a stunning corner sequence against Schenkhan.
ZG may have underestimated Fangrear, causing a big upset when Fangrear managed to take it over the veteran.
Just as Roar had started to pick up the momentum, bksama managed to put an end to their streak and close out the set.
A good showing from Roar this week, outperforming their expectations and almost clinching the upset. Feel the tension in this match as Waz almost closes out a comeback in the sixth match.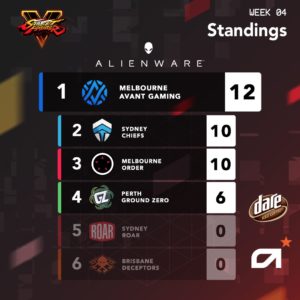 ---
Melbourne's ORDER and Avant, Sydney's Chiefs and Perth's Ground Zero will be the four teams to move forward and week five of the round robin series will be a battle of points to claim the best seeding.
The Gfinity Elite Series returns with Street Fighter V and Rocket League this weekend. Tune in on Twitch, YouTube, Twitter, and Facebook to watch every game live. Head to gfinityesports.com.au for details on schedule and tickets.